Posts Tagged 'Sensors and Actuators'
June 9th, 2010 by NearInteraction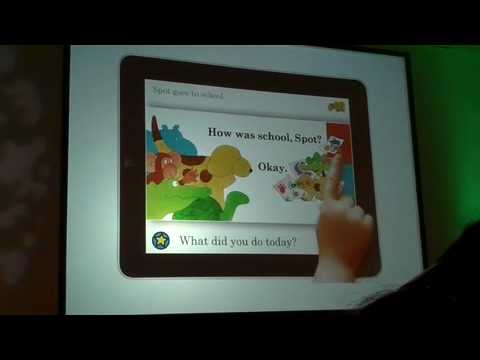 The first-look demos of Penguin Books presented by Penguin CEO John Makinson in London.
Source: paidcontent
---
February 17th, 2010 by NearInteraction
Here the Noteput project conceived by Jürgen Graef and Jonas Heuer: a table of interactive music with tangible notes. A concept combining the 3 directions (hearing, sight and touch) allowing the training of the musical theory and the teaching classical music of manner.

---
September 14th, 2009 by NearInteraction
---
September 14th, 2009 by NearInteraction
Karsten Schmidt and the team ran the first full test of the interactive identity that will take over the western wall of the NFT Southbank from Wednesday 9th September as part of the onedotzero_adventures in motion festival.
Using the Nokia N900, punters will be able to control the live conversations behind the identity – twisting, turning and feeding the aggregated words to help build our first living, breathing onedotzero identity.
Software built by Karsten (in Processing) and Gary working with Maemo 5 (for the not so geeky that's the new Linux-based operating system on the N900).
Source: http://vimeo.com/6417194
---
February 9th, 2009 by NearInteraction


TinkerKit is an Arduino-compatible physical computing prototyping toolkit aimed at design professionals.
The interest in physical computing as an area in development within the creative industries has been increasing rapidly. In response to this Tinker.it! is developing the TinkerKit to introduce fast iterative physical computing methodologies to newcomers, and particularly design professionals.
This project is currently under development by Tinker.it! We will mostly be documenting the early stages of prototyping and user research here. This is not yet commercially available.
---
October 27th, 2008 by NearInteraction
Stick your finger in the hole :: A handheld interactive plaything that requires you to twiddle your finger around inside the hole to play with a variety of virtual characters on an LCD screen on the front of the device. See it for yourself…
---