Posts Tagged 'interface'
June 17th, 2013 by NearInteraction
---
March 6th, 2013 by NearInteraction
"Thermometer is one of the oldest medical device, used by every doctors and even in house as a personal medical device.
The Kinsa Smart Thermometer gets you a new way of diagnosing and dealing with normal and everyday illness.
The Kinsa Smart Thermometer is designed in a simple way to provide treatment advice when it comes to more serious symptoms.
If you really feel your condition is extremely serious, Kinsa App can even make a call to your doctor or may be book an appointment at your local medical clinic.
The device have no battery, display or processor in it. You just need to plug it into iPhone headphone jack and Kinsa App will display the patients temperature.
It's a good device, if like to monitor your health closely as it can record your temperature historically by creating a profile.
It can also be helpful to check for any seasonal illness circulating in local groups."
The Kinsa Smart Thermometer: thin, elegant, and comfortable.
Connects to your phone for accurate and fast reading. Accompanying app is free with an easy-to-use interface. Includes optional extension cord.
---
August 2nd, 2012 by NearInteraction
Tangible Textural Interface (TTI) is a new type of sound system that that embeds a tactile surface. The interactive system allows users to rub their hands and fingers across the fabric to control the music. Unlike conventional materials such as plastic or glass, TTI adds a softer and more personal appeal to an electronic device.
With a few simple gestures, users can adjust the volume, select the equalizer, and skip tracks just by touching the speakers. TTI was created by product designer Eun Hee Jo, who has also created other textured gadgets such as the Fabric Mouse.
Watch the video below to see a demonstration of TTI.
---
July 30th, 2012 by NearInteraction
---
March 2nd, 2012 by NearInteraction
iPad App Development for Actavis, a project with TerraDesign Pharma.
---
August 16th, 2010 by NearInteraction
"fraunhofer's fit is the latest touchless control system that uses gestures to control computer interfaces.
the design is unique because it requires no special equipment, gloves or other wearable controllers.
the user simply places their hands in the air in front of a camera. the computer can then sense their
hand and can visually see each finger. the users movements are then translated on screen allowing
them to manipulate objects through various gestures and motions. the system is so sophisticated it
can operate in three-dimensions, allowing various objects to be manipulated at varying depths."
Via Designboom, video after the Jump.
---
June 9th, 2010 by NearInteraction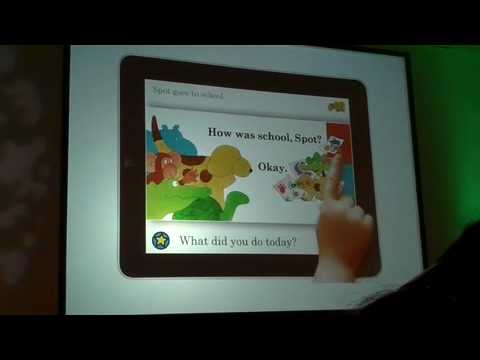 The first-look demos of Penguin Books presented by Penguin CEO John Makinson in London.
Source: paidcontent
---
February 1st, 2010 by NearInteraction
---
January 15th, 2010 by NearInteraction
NearInteraction is proud to represent the Comissão Nacional para as Comemorações do Centenário da República (developed for the centennial celebrations since Republic implementation) with a travelling exhibition of a multi-touch interactive table that reads QR coded cards. Already displayed at two official meetings, the Congresso da Associação Nacional de Municípios Portugueses, in Viseu, Portugal, and a formal launch in the Biblioteca do Palácio Nacional da Ajuda, in Lisbon, Portugal, the table will be moving to multiple events and several locations around the country. The table displays an intuitive interface upon which the visitors can explore, amongst other topics, the significant events of the Republic, biographies of representative people as well as all the events and initiatives taking place in 2010 as part of the celebrations.
---
---