Archive for the 'Audio and Visual Experiences' Category
October 13th, 2010 by NearInteraction
---
October 13th, 2010 by NearInteraction
I've always wished to be actually inside a computer game. Not just playing the game but actually being Sonic. Imagine going on an augmented run, where instead of just listening to music or podcast, you do that, and play a computer game for the extra motivation. Every now and then you'll have to pick a virtual coin, or avoid some virtual danger.  Or you may run against a virtual competitor, which may very well be non other than yourself, as recorded on a previous run. At the very least you'll be able to constantly see you heart rate and the number of miles you've already completed.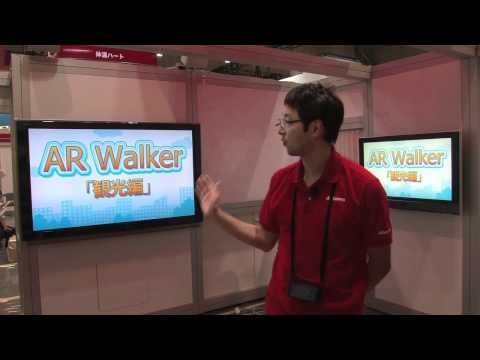 ---
January 23rd, 2009 by NearInteraction
---
January 23rd, 2009 by NearInteraction
Kin were approached by de-construct to help them realise an interactive in-store promotion for Tommy Hilfiger. To coincide with their new campaign 'My Denim, My Music', Tommy Hilfiger's aim was to fuse fashion and music: both in their external advertising and through in-store promotions. 

Tommy Hilfiger Interactive Audio Cassette from kin on Vimeo
Kin developed a large-scale interactive audiocassette, to work as an in-store point of sale unit. 5 new styles of jeans were chosen, and a unique soundtrack was composed for each one by SkinnerBrosMusic. A specifically designed sticker on each pair of jeans instructs the customer to swipe the jeans against the giant cassette to 'release the music'. 
Kin used pre-programmed RFID tags that were placed behind the stickers. An RFID reader mounted inside the cassette reads the unique tag number which in turn is relayed to a bespoke piece of software running on a Mac Mini in the base of the unit. The Mac is then connected to a car audio amplifier, subwoofer and speakers – the speakers being mounted in the spool holes of the cassette. 
---
December 15th, 2008 by NearInteraction
"A Vodafone é a primeira marca de telecomunicações a comunicar as suas
ofertas através de mupis 3D e hologramas. As tecnologias que estão a
ser aplicadas na campanha de Natal da marca são a 3D TVLCD, nos centros
Vasco da Gama e Cascais Shopping, e a Cheoptics 360, no Centro
Comercial Colombo. A Lifetime é a empresa responsável pelas soluções,
conteúdos e organização do espaço da campanha. A gestão dos meios está
a cargo da Tempo OMD e da OMG Digital. Os mupis são da JCDecaux."
---
December 10th, 2008 by NearInteraction
---