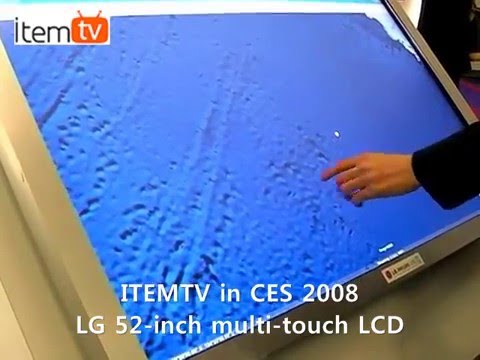 LG Philips LCD will reveal a 52-inch Multi-touch Screen, 42-inch Transflective LCD, 47-inch Double Sided LCD and Multi-vision Displays at the CES 2008. 
These new panels are aimed at commercial use for advertising displays and similar applications. 
The LG.Philips LCD's 52-inch multi-touch panel for public and interactive displays is not only the world's largest, it is also one of the most responsive, able to recognize input from either a touch of a finger or more precise writing instruments.
It uses an infrared image sensor that gives it the ability to recognize two separate touch points as well as gestures. It boasts some of the industry's highest specifications, with a 90 Hz touch response time, 1920 x 1080 Full HD resolution and a light transmission rate of 95 to 100 percent. 
LG.Philips LCD's flagship multi-touch display is an 84-inch model created by conjoining four 42-inch panels in a two-by-two array. This acts as a single enormous display with multi-touch capabilities across its entire surface. A screen bezel width of only 15mm, which is 40 percent smaller than the average bezel, adds to the panel's seamless look and feel. The display also has Full HD 1920 x 1080 resolution, an omni-directional 180-degree viewing angle and impressive 500 cd/m2 brightnes